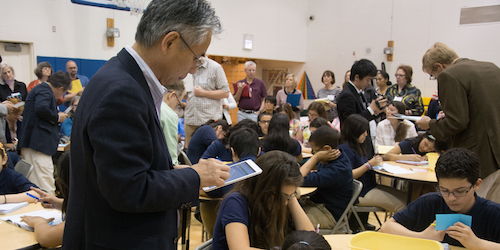 "Lesson Study is by far the best form of professional development I have ever seen."
Barton Dassinger, Principal, Chavez Elementary School, Chicago
Upcoming Events
"Designing and analyzing lessons with the TRU Math Framework"
Thursday - Friday, May 5 - 6, 2016
Registration deadline: 2016-04-26
This conference will feature live research lessons taught by a classroom teacher to his or her students, exploring how teaching math through problem solving can help students develop the Mathematical Practices of the Common Core State Standards. After each lesson, panelists and participants will engage in an in-depth discussion about the design of the lesson and its impact on students, with final comments by Dr. Schoenfeld, creator of the TRU Math Framework, and Dr. Akihiko Takahashi, an expert in Lesson Study and elementary mathematics.
Subject to change, the lessons will be:
Recent events
"Teaching through Problem Solving"
Thursday - Friday, May 7-8, 2015
Want to Stay Connected to an International Network of Lesson Study Practitioners?
Join an email discussion list. Several hundred active lesson study practitioners and researchers are on the list. More information and registration at http://mailman.depaul.edu/mailman/listinfo/lsnetwork